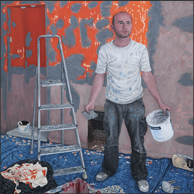 After graduating from the University of Derby in 2004 with a BA (Hons) in Illustration, Lewis moved to Edinburgh to earn a living and begin life as an artist.
The strong arts culture, festivals, sight seeing and the possibilties of exploring its many fantastic art galleries make Edinburgh a truly inspirational city in which Lewis, as a young artist, can thrive.
Lewis is passionate about sketching and painting portraits. His recent subjects have mainly been of his family and friends, and the occasional pet. Lewis enjoys the challenge of a new portrait and strives to improve and develop as an artist with every new piece of work. He likes to begin by sketching his subject in different compositions using coloured pencils on paper. When he has chosen a composition he will then move on to paint with oil on canvas. Where possible Lewis will sketch and paint from life. He also takes many photographs from which to work so that he can achieve the high level of detail that has become his signature in his paintings.
Lewis has also established a painting and decorating business and likes to vary his time between being an artist and a decorator. He is always interested in being approached with new potential subjects for future portrait paintings.